STAGE PROGRAM
February 18 (Thu)
---
hours
Center Stage
On-site seminar space
10:00
10:00~10:30
Opening Ceremonies
10:35~10:50
Presentation by Mayor of Kawasaki City
"Kawasaki's Potential to Lead the World-
The Kawasaki Hydrogen Strategy Aimed at Creating a Hydrogen Society-"
Norihiko Fukuda(Mayor of Kawasaki City)
11:00










12:00
"Large-Scale Hydrogen Storage Technology and Future Prospects"
Mr. Yoshimi Okada
(Engineering Leader of Engineering Development Unit and Hydrogen Chain Business Promotion Unit, Chiyoda Corporation)
11:00~12:00
Business presentations by overseas organizations
●11:00~ Daegu-Gyeongbuk Free Economic Zone Authority, Republic of Korea
●11:20~ Hong Kong Trade Development Council
●11:40~ Qingdao Overseas Investment Service Center, China






13:00
"The Development of Fuel Cell Car Mirai and Efforts towards Creating a Hydrogen Society"
Mr. Yoshikazu Tanaka
(Chief Engineer for Mirai Development, Chief Engineer for Product Planning Group, Toyota Motor Corporation)
"The World Embarks on the Implementation of COP21"
Mr. Yoshihiro Adachi(Professor, Tokyo University of Technology)


14:00
13:45~14:45
Low CO2 KAWASAKI Brand Certification Results Announcement
Certification Results Announcement Ceremony
Presentation by Brand Grand Prize winner
15:00
15:00~15:20
Kawasaki City collaborating with Thai Rental Industrial Park






16:00
15:30~16:10
The signing ceremonies between Bandung (Indonesia) and Kawasaki for an intercity memorandum on collaboration towards the creation of low-carbon, sustainable cities
13:30~16:00
Environmental Business Alliance Matching Seminar
In addition to commercial talks, companies carrying out environmental businesses in each region will give presentations on their companies activities (products, technologies, systems, etc.), such as "product and service development" and "setting up new sales networks", to find new business partners.

Hosted by Kanto Bureau of Economy, Trade and Industry
  Science Inc.(Saitama)
  SK Soap Mfg. Co., Ltd.(Tokyo)
  UNION Co., ltd.(Kanagawa)
  Grountec. Co., Ltd. (Toyama)
  Takasago Industry Co., Ltd.(Gifu)
  Ohmi Bussan Co., Ltd.(Shiga)
  TOYO SCREEN KOGYO CO., LTD.(Nara)
  eneforest Co., Ltd.(Oita)
  Toward Co., Ltd.(Saga)
※ The program may be subject to change.
February 18 (Thu)11:00~12:00
Hydrogen Energy Seminar 1
"Large-Scale Hydrogen Storage Technology and Future Prospects"
Mr. Yoshimi Okada
(Engineering Leader of Engineering Development Unit and Hydrogen Chain Business Promotion Unit, Chiyoda Corporation)
Graduated in 1984 from Department of Chemical Engineering , Yokohama National University. Finished Energy Materials Course in graduate school there and joined Chiyoda Corporation. Worked on catalyst development in research institute. Holds current position since 2013. Board member at Hydrogen System Society of Japan, external assessor for Advanced Industrial Science and Technology Tohoku Collaboration Center, advisor for JST Hydrogen Carrier Area assessment and others.
February 18 (Thu)12:05~13:05
Hydrogen Energy Seminar 2
"The Development of Fuel Cell Car Mirai and Efforts towards Creating a Hydrogen Society"
Mr. Yoshikazu Tanaka
(Chief Engineer for Mirai Development, Chief Engineer for Product Planning Group, Toyota Motor Corporation)
Joined Toyota Motor Corporation in 1987. In charge of AT development for first Vitz model among other things, appointed Director of the Test Analysis Department in 2005. Placed in charge of product planning for plug-in hybrids in 2006, he became chief engineer for the Prius PHV the following year. In charge of product planning as chief engineer for fuel cell car development since 2012.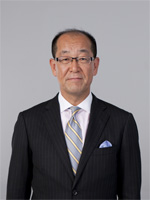 February 18 (Thu)13:10~13:30
Honor Lecture
"The World Embarks on the Implementation of COP21"
Mr. Yoshihiro Adachi
(Professor, Tokyo University of Technology)
Born in 1947. Graduated from Engineering Dept. of Kyoto University (Dr. of Engineering).
Deputy Director-General for Engineering Affairs of the Ministry of International Trade and Industry (current Ministry of Economy, Trade and Industry), later Professor for Material Engineering, Engineering Department of Graduate School of Tokyo
University (Environmental System Engineering Course), member of Ministry of Economy, Trade,
and Industry Industrial Structure Council "Industry and Environment Subcommittee, since
October 2012 Professor at Tokyo University of Technology. President of Japan
Society for the Promotion of Machine Industry, Director of NPO corporation Environmental
Creation Liaison Center, President of Kawasaki City Global Warming Measures Promotion
Conference (CC KAWASAKI), member of Science Council of Japan and others.